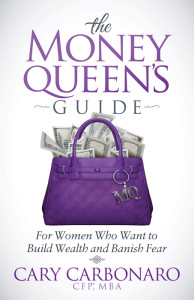 #1 BESTSELLER ON AMAZON – Available now!
The Money Queen's Guide was named to Daily Worth's list of "Top 10 Books That Will Make You Rich"
The Money Queen's Guide is an uplifting and informative financially grounded book that helps women obtain and then protect financial success through the evolution and growth of their professional careers and personal lives.
As much as women today are motivated to make money, we often do not consider the crucial relationship between what we do today and how it can impact our life tomorrow. The Money Queen's Guide is a book written for the woman who has it all, but often struggles with the ability to balance her success with her future needs and goals. The Money Queen's Guide will help readers to plan out their financial lives and plan for growth and success, while avoiding the pitfalls that can derail financial security along the way.
Order today at Amazon or Barnes & Noble
Chapter 1: Are You a Material Girl?
 Everyone makes money mistakes,  its how you recover that matters
 Everyone need an emergency fund,  I tell why I needed mine
 Don't allow your emotions to control your financial decisions
Chapter 2: The Five Keys to Financial Planning
Chapter 3: Fail to Plan; Plan to Fail
Chapter 4: Your Best Financial Life
 Visualize what it looks like to have "financial freedom"
 Learn what you can control and what you can't!
 You are responsible for your financial life,  NO ONE else will
 Make lists and share your goals with family and friends
Chapters 5-9 will help readers to plan out their financial lives and plan for growth and success, while avoiding the pitfalls that can derail financial security along the way:
Your Roaring 20's: The Journey Begins
Your Thrifty 30's: Becoming Established
Your Fantastic 40's: What's Next?
Your Fabulous 50's: Avoiding the Landmines
Your Smooth 60's and Beyond: A Time to Celebrate
JOIN THE MONEY QUEEN'S GUIDE MAILING LIST: